Rajo Jack
One of the First African American Racers in the U.S.
Well known and respected mechanic and racer
at Legion Ascot Speedway.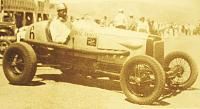 Dewey Gatson was born in Tyler, Texas, in 1905, the oldest of six children (Lindsey, Katie, Jennie, Warren and Gerald). His father, Noah, had regular work on the railroads which meant that the Gatsons were better off than many of the other black families in Texas at that time. The family moved to San Francisco and then on to Los Angeles in about 1919.

In 1921, a sixteen year old Dewey, left home and was hired by Doc Marcell to help with the putting up and taking down of the tents of his travelling Medicine Show. However Dewey showed natural aptitude to all thins mechanical and was soon looking after the show's 20 strong fleet of vehicles which were based in St. Johns, Oregon. He even converted a truck into a mobile home for the Marcell family.
It was somewhere around this time that Dewey caught the racing bug and started racing at the fairs that the Marcell Medicine Show followed across the country. We know how hard it was for blacks to enter any sport at that time let alone motor racing, however Dewey resorted to claiming he was Portuguese with the name Jack DeSoto or an American Indian, though what alias he used for that deception is unknown. What we do know is that once Jack had earned enough to buy his own Model T, he moved to Los Angeles and was racing regularly in the Pacific Northwest and California, at Culver City in 1924, under the name of Jack DeSoto.
In 1925 Dewey ran a match race against Francis Quinn in Vancouver, Washington but his seat fell out of the car as he took the green flag to start, and the race had to be canceled. Dewey often worked as a mechanic for Quinn at the Legion Ascot Speedway in Los Angeles.
It is not clear what Dewey was up to over the next few years, but in the early 1930s Joe Jagersberger appointed him as his Los Angeles dealer and salesman for the Rajo High Performance engine kits that he made for the Model-T Ford in Racine, Wisconsin. It was his ability and success as a salesman that earned him the nickname of Rajo Jack.
Rajo raced just about anything including stock cars, midgets, big cars and even motorcycles. He also did stunts on motorcycles and it was one of these stunts that resulted in an accident, which blinded him in one eye.
Sadly Quinn was killed when his Model A Ford was hit by a truck in December 1931 on his way back from a cancelled race at Oakland. Claude French, his mechanic that day, survived with minor injuries. Quinn left Rajo his 225 cubic inch Miller engine which he then used in his race cars for a number of years.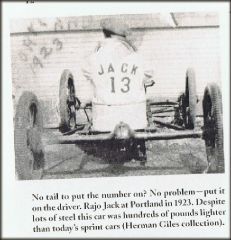 Rajo took a number of wins in his career including a 200 mile race at Silver Gate Speedway in 1934 and a 100 mile race at San Jose Speedway on March 17, 1935. He won the 100-mile race at the Oakland Speedway in September of 1936 and on October 25th that year, he drove a stock Ford to victory in a 200-mile national cha
mpionship race at Los Angeles Speedway, two laps ahead of the second placed car.
He also won a 500-mile race at Oakland Speedway, driving in relief for 'Tex' Peterson in Gil Pierson's Miller and the 200-lap Pacific Coast Championship race at Southern Ascot Speedway, where he also won a 40-lap night race driving his Miller.
In stock cars he won the 250-mile stock car championship rac
e at Mines Field Speedway in Los Angeles and in June 1940, he won a 250-lap stock car race at Southern Ascot Speedway behind the wheel of a 1.9-litre Citroen Traction Avant!
On April 29, 1939 Rajo had his Miller engine in parts to replace the main bearings. However he needed to drive the 400 miles to Oakland for a 100 mile race the next day. He called his wife Ruth to get ready which she thought meant get ready for the ride. However it turned out that she was to drive while Rajo put the engine together in the back of the truck. He finished it in time to qualify third and finish second in the race.
Rajo Jack raced in the American Racing Association (ARA), finishing third in the points in 1941. And while he raced mainly on the West Coast, he traveled as far east as Dayton, Ohio and as far north as Langford Speedway in Victoria, British Columbia, Canada. It was on his way back from Dayton in 1941 that he was b
adly injured, sustaining a compound fracture of his leg and severe concussion, in the accident that claimed the life of Wayne 'Boots' Pearson at the Steele County fair in Owatonna, Minnesota.
All racing in the United States stopped during World War II. After the war, Rajo returned to racing but rolled racing at San Diego Speedway.By 1951 the Miller was getting tired and so was Rajo's body. He was barely able to bend his arm as the result of numerous racing injuries and had difficulty reaching the steering wheel. He decided to retire. He was generally, if not universally, accepted and well liked and his fellow racers often stepped if Rajo was being discriminated against. It was not enough to overcome the prejudice of the AAA and Rajo never got the chance to race at Indy, though Rajo himself always claimed that he couldn't get a AAA licenece because of loosing the sight in one eye.
By February 1956 he had divorced his wife Ruth and was driving trucks between Los Angeles and San Francisco. On February 27th 1956 Rajo Jack died from a suspected heart attack while traveling on Highway 395 near the town of Inyokern, California. Rajo was 51 years old. He is buried in the Lincoln Memorial Park Cemetery in Carson, California.